You feel good, you do good – Wawel with a new communications strategy
A leading Polish manufacturer of confectionery products is implementing a new communications strategy. The newest ad spots of Fresh & Fruity jellies and Choco & Peanut candies can already be seen on the main TV stations, the next campaigns will follow shortly. Schulz brand friendly agency is responsible for communication strategy and creation, Lemon Film Studio is responsible for production, PR Garden of Words Group for service and METs media house is responsible for media purchasing.
Wawel, a brand with over a hundred years of tradition, is in the process of rebranding and implementing a new communications strategy. This was reflected in the new visual identity – refreshed logo and packaging, as well as in the recently started campaigns for particular sub-brands.
Wawel's new strategy – "You feel good, you do good"
According to its new strategy, Wawel wants to make Polish people feel good and motivate them to do good. This concept is based on three key pillars – the first of which is the production of exceptional, top quality sweets based on Good Ingredients. Another area is charity work within the framework of the "Wawel z Rodziną" Foundation and the social and consumer programme, through which the brand allocated PLN 1,500,000 to social causes last year. The third element is building a community around the idea of well-being and doing good.
The mission of the Wawel brand can be summarised in a few sentences: We need to make a positive impact on the world and therefore strive to create natural and innovative sweets that are available every day. We are constantly improving our products, taking care of their quality and composition according to the ideals of the pioneering Good Ingredients project. We act in a socially engaged way. Thanks to our ability to create unique sweets and charities, we can do real good. – explains Tadeusz Czarniecki, Wawel SA Marketing Director, and adds – We want to put consumers in a good mood, which will give a positive course to events – from small, everyday deeds to big ones.

Dobre Składniki
With the aim of simplifying the composition of its products as much as possible, Wawel is pioneering the development of its formulas: they do not contain unnecessary preservatives, colourings or artificial flavours. Instead, it focuses on high quality cocoa beans, lecithin from certified soybeans (without GMO), gradual elimination of palm oil and increasing the content of desirable raw materials in the product, such as peanuts in Michalki. The process is supervised by a specially established Board of Experts, consisting of specialists in food technology, commodity science and dietetics, who are associated with public universities on a daily basis. The "Good Ingredients" project is guided by the principle that only sweets with a good, uncomplicated recipe can make you feel good. Read more on our dedicated website www.dobreskladniki.pl.
The creative idea of "Good News"
The communication of Wawel sub-brands is based on the concept of "Good News". The implemented strategy applies to all brand products. The campaign includes three spots, which will be broadcast until the end of this year on leading TV stations. They are directed by a renowned Australian director, Sebastien Guy. The campaign also includes digital and public relations activities as well as radio, press and OOH.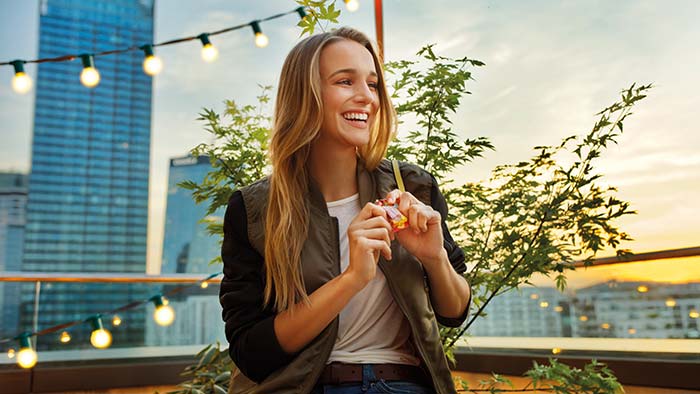 We live surrounded and bombarded by countless pieces of information. Many of them put out negative emotions, misfortune, resentment to the world. The creative "Good News" platform puts the Wawel brand in the role of an author of good, optimistic and warm messages. The characters in the stories receive the good news, which in an subtle and magical way allow them to find pleasure in a seemingly bad situation and look at it from a completely new perspective. The narrative in our ads is typical of feature films, and each one of them is meant to make you feel good. We hope that this is the result we will be able to achieve. – comments Artur Leśniak, Creative Group Head, Schulz brand friendly.
Each of the spots refers to a different medium, using its characteristic language, visual associations and atmosphere. Choco & Fruity – is television, Malaga, Tiki Taki, Kasztanki – radio, Fresh & Fruity – the world of digital transmissions. Apart from the plot and the expected image associations, Wawel sweets exhibit a strong rational message: Wawel sweets are made only of good ingredients, without unnecessary preservatives, colourings and artificial flavours.
It is quite rare that a brand wants to go beyond the sale of a product and tries to change the mindset of its customers. Therefore, the most important aspect of the production was an authentic and natural reflection of emotions, and thus establishing a bond with the audience. The team, the agency, the client – they were all in a positive and good mood, close to the brand philosophy and I have the impression that these emotions were transferred directly to the ad spots we created ," comments Sebastien Guy, the advertising director.
SEE THE "CHOCO & FRUITY" SPOT>>
The communication of the Wawel brand is very close to the mission of our agency. We strive to ensure that the advertisements we create are user-friendly, we want to work with brands with values, we want to create concepts with a message for consumers, and not just an advertisement for an ordinary product range. This is the idea of "Good News". – comments Wojciech Kotala, CEO of Schulz brand friendly.
The third spot of the campaign will be broadcast in October. It will concern the most popular chocolates in the Wawel brand's range – Malaga, Tiki Taki and Kasztanki. The next edition of the Wawel social and consumer campaign is also ahead of us, involving the largest public benefit organisations in Poland and their leaders. This year the campaign is called "Heart Rises".
Schulz brand friendly agency is responsible for developing communication strategy, campaign creation, execution and digital campaign, Lemon Film Studio is responsible for production, PR Garden of Words Group for service and METs media house is responsible for media purchasing.
About the Wawel brand
Wawel is a beloved brand of Polish people. It is also one of the oldest companies, manufacturing sweets, in Poland. Since 1898, we have successfully combined the power of tradition with a sense of modern taste.
At Wawel we believe that the satisfaction derived from our products, developed on the basis of Good Ingredients, can be an impulse for small, good deeds, and all according to the principle – you feel good, you do good! Because when we are in a better mood, everything around us is more beautiful and we are more inclined to do good. It's that simple!